Johnstown High


Class of 1954
ANNOUNCEMENTS
•

A new feature has been added to the Home Page. Scroll down to the bottom and click on "Rewind" for an audio offering of events that occurred on today's date in recent history. Be sure to have your speakers turned ON.

•

CLASSMATES, KEEP THE 8th,9th AND 10th OF AUGUST, 2014 OPEN. CLICK ON "60 Year Reunion" PAGE for MORE INFORMATION.

•

This website has been created by Regis Kingera and Dwight Huster for members of the class of 1954. We hope it serves to provide an opportunity to remember years gone by and to bring us closer together. Many of you will most likely be interested in information about our next reunion and this site contains that information. Just click on the REUNION page link on the left side of the screen. Please take a few minutes to update your profile, and most importantly, provide us with your email address so we can send you announcements. Your email address will not be viewable to other users, but will give other classmates the ability to contact you.

If you would like a picture of our school, right-click on the picture below and choose copy image. Then, go to Word or Excel and paste it. After you have pasted it, you can change the size and print it.

If you have any questions about the website, or how to use it, please contact Regis or Dwight. Or, you could just use the "Member Chatter" button to the left.

•

I have been out of town for a while. I am sorry that I haven't replied to all of your requests and inquiries.

First I have never been to the Super 8 Motel. I searched for a 30 miles radius for accomomadations and Super 8 was the only one that had rooms available. I was curious about that fact. I called several businesses in the area, such as the Chamber of Commerce and the Visitors Centers around the area. They had no direct information about complaints and told me that it seemed to be clean and adequate, so I called and reserved a room. When talking to the management I ask for a discount and they agreed.

I have done this when traveling. I make reservations at a place and make sure that I can cancel up to the day of arrival.I continue to shop for a cheaper or one that is closer to my destination, if I find one, I do what is best for me.

If you have any technical difficulties, call me at 814-867-2029, leave a message and I will return your call as soon as possible. (This will save you any excssive phone charges) This is the easiest way to solve the problem because you can give me all the information and not involve lengthy emails.

I need your help in locating missing classmates

I need you to give me leads to someone you might know, an address, or a state that you think they reside. Their last known telephone number and I will search for them.

I need to know what you want to see on the site. I need photos. I will pay you for reproducing and mailing. Do you have a story you can tell or an incident that happened while attending Johnstown High.

1. Your homeroom and your homeroom teacher.

2. Names of those that your remember in your homeroom.

3. The classes that you took and the teachers and those classmates in that class.

4. The time of day those classes took place.

5. Where you hung out after school, movies that you saw, songs you liked.

6. Anything that you can tell me about your time at Johnstown High.

Your memories will trigger a memory in someone else and their's will trigger a memory for all of us.

Thank you,

Regis Kingera

•

CLASSMATES, KEEP THE 8th,9th AND 10th OF AUGUST, 2014 OPEN. CLICK ON "REUNION" PAGE for MORE INFORMATION.
Before middle age, do not fear, after middle age, do not regret! Enjoy your life while you can.
As long as it is physically possible, visit places you wish to visit.
When there is an opportunity, get together with old classmates, old colleagues, and old friends.
When it is time to spend, just spend. Treat yourself well as you're getting older.
Whatever you feel like eating, just eat. It is most important to be happy.
Treat sickness with optimism. Whether you are poor or rich, do not be afraid or worried when you are sick.
Let the doctors handle your body, God handle your life, but be in charge of your own moods.
Our kids will make their own fortune.
Your old friends -- seize every opportunity to meet up with your friends. Such opportunities will become rare as time goes by.
Every day, you MUST smile and laugh. Cry louder if you want to cry. LIFE ends when you stop dreaming, HOPE ends when you stop believing, LOVE ends when you stop caring, and FRIENDSHIP ends when you stop sharing.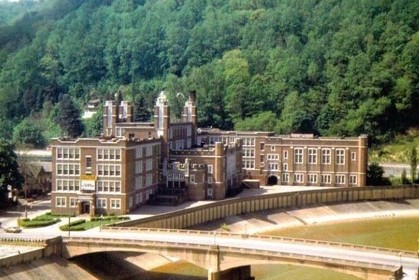 Alma Mater (To Dear Old Johnstown High)
In the shadow of the mountain
With the stream meandering by
rises glorious Johnstown High School
O'er surroundings towering high
CHORUS: Raise your voices, waft the echoes
Thru the valleys' far away/
Hoist the black and pale blue banner
With our praises let it sway
From thy chapel in the morning
Where thy Maker's help is sought
To the end of every session
Truth and steadfastness are taught
---
Do you think maintaining a website is easy? It actually is if your borrow some of your contents from the South Pasadena High School Alumni website. A portion of our page content has been borrowed and is used with permission from Bruce Eskander, webmaster of www.SPHSAA.org, copyright 2009-2013 THANKS Bruce